Long Island beaches and Fire Island, Long Island, are celebrations in seascape beach paintings ! Pass through the seasons on Long Island New York and enjoy the beauty I have found in painting my favorite island …... Long Island !
Long Island New York welcomes spring with the crocuses bursting through snow

The Long Island beaches are empty. The time for ice skating on local L.I. ponds is drawing to a close as children get one last day of skating. Beach grasses at Long Island beaches and fire island begin to turn green, and the residents near Lighthouse beach prepare to enjoy their summer! Those interested in Fire Island rentals, begin looking for last summer's schedule for the fire island ferries.
This page showcases Long Island & Fire Island, New York
Limited Inventory: It might be a good idea to Email Rick to see if the size you are looking for is still available.

Beach Paintings:

Fire Island is a barrier beach off the southern edge of L.I. and offers fine grained white sandy beaches, ideal for beach paintings. I often visit Lighthouse beach to sketch there. Many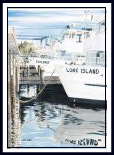 Fire Island ferries provide access to Fire Island, NY. The Fire Island ferries leave from Patchogue, Sayville and Bay Shore. From the Fire Island ferry, one can see the Fire Island Lighthouse (Lighthouse beach) in the distance. Cars are not allowed at Fire Island, so after leaving the

ferry, one uses red wagon rentals to transport one's necessities to the beach houses, often summer rentals for NYC residents.
The Long Island beaches get much use by children, but many Fire Island beaches remain isolated within the Fire Island National Seashore, with access by boat only, and long islanders love their boats ! My lighthouse beach paintings are enjoyable to do. While visiting lighthouse beach, I draw in my sketchbook, then later, in my art Gallery/Studio here in Setauket, I refer to these beach sketches and finish the beach paintings. At left, you can see me painting the Montauk Lighthouse, at the

tip of L.I. The Montauk Lighthouse area is also a favorite spot for surf casters. Excellent trout fishing can be found on LI such as in the Nissequogue, and Connetquot rivers. Soon the chilly winds appear, leaves begin to display their colors, the pumpkins begin to appear at the local farm stands, and another celebration is soon to begin!
Enjoy!